Wow…A lot of ground to cover yet!
Check out this handy little map  from Matador. What better way to plan your trips than to see all the places you haven't touched down in yet. Ours is getting fairly blue, but as you can see, there's loads of ground we haven't covered…Next years adventure should get us to another 20 or so through eastern Europe and the Caribbean but where do you suggest we go next? Leave a comment below and tell us your favorite destinations and why we should visit. (PS. We are well aware that a few of the countries listed below are not officially considered countries depending on who you talk to. Don't sweat the small stuff!)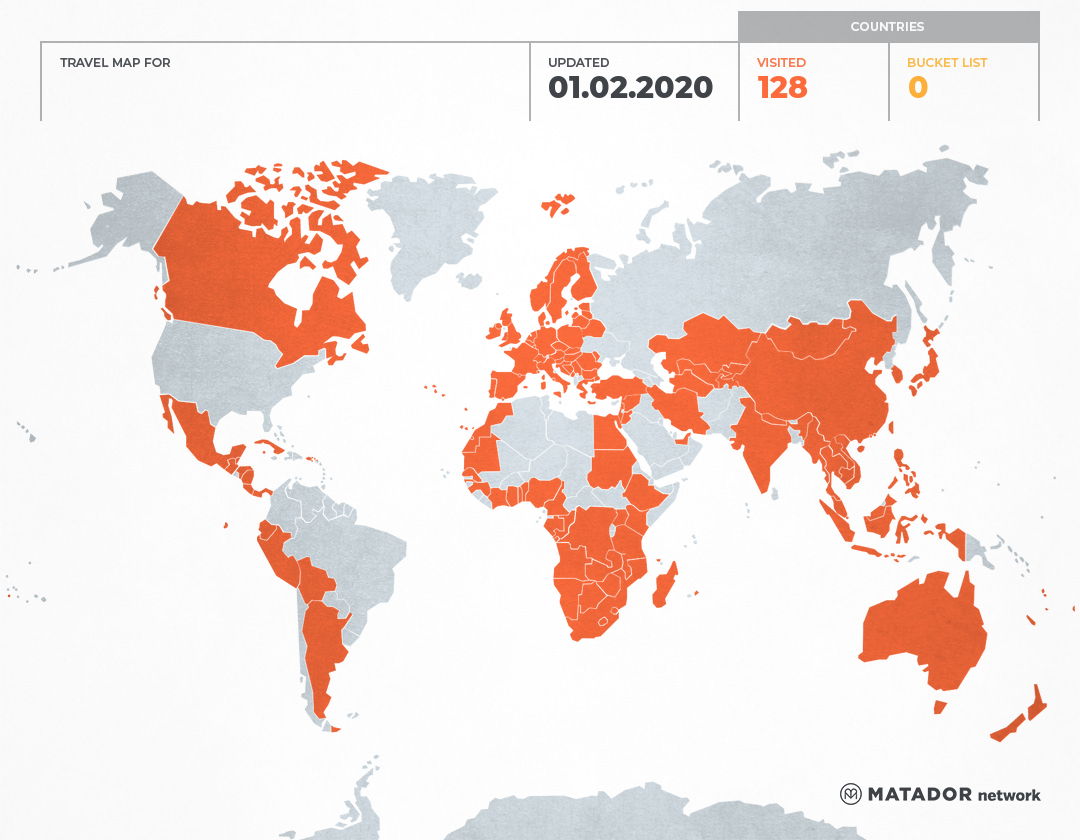 Catch Our Travel Bug has been to: Andorra, United Arab Emirates, Angola, Argentina, Australia, Belgium, Benin, Bolivia, Botswana, Belarus, Belize, Democratic Republic of the Congo, Republic of the Congo, Switzerland, Ivory Coast, Cameroon, People's Republic of China, Costa Rica, Czech Republic, Germany, Denmark, Ecuador, Estonia, Egypt, Western Sahara, Spain, Ethiopia, Finland, Fiji, France, Gabon, United Kingdom, Ghana, Gibraltar, Guinea, Greece, Guatemala, Hong Kong, Honduras, Hungary, Indonesia, Ireland, Israel, India, Iran, Italy, Jordan, Japan, Kenya, Kyrgyzstan, Cambodia, Comoros, South Korea, Kazakhstan, Laos, Lebanon, Lesotho, Lithuania, Luxembourg, Latvia, Morocco, Monaco, Moldova, Madagascar, Myanmar, Mongolia, Macao, Mauritania, Mauritius, Malawi, Mexico, Malaysia, Mozambique, Namibia, New Caledonia, Nigeria, Nicaragua, Netherlands, Norway, Nepal, New Zealand, Panama, Peru, Philippines, Poland, Palestine, Portugal, Romania, Sudan, Sweden, Singapore, Slovenia, Slovakia, Syria, Swaziland, Togo, Thailand, Tibet, Tajikistan, Turkmenistan, Tonga, Turkey, Taiwan, Tanzania, Uganda, Uzbekistan, Vatican, Vietnam, Vanuatu, South Africa, Zambia, Zimbabwe.
Get your own travel map from Matador Network.
Note: I do not receive any payment for this post (or any others on the site for that matter!). I do receive a small amount of money by allowing advertisements on the site and any purchases made through those links.